"Through the various supplier diversity channels that have been introduced to us, we have seen opportunities for new business increase exponentially."
–Ed Hamner, Howling Print & Promo, LGBTBE certified business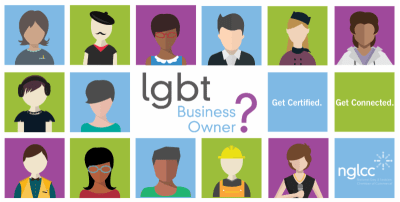 Harness the power of certification.
Through the process of certification, diverse suppliers access new opportunities and create new advantages for your business. Certification is an important tool that can serve as a critical point of differentiation between your business and your competitors.
When your business becomes a Certified Lesbian, Gay, Bisexual, and/or Transgender owned Business Enterprise (LGBTBE), you will gain access to the national LGBT Chamber of Commerce's (NGLCC) Corporate Supplier Diversity Partners. These Corporate Partners are committed to creating a diverse supply chain that is inclusive of LGBT businesses and have targeted amounts for spending with diverse business enterprises. Getting your business certified is a necessary element of gaining access to these millions of corporate dollars.
We can help you get there.
Plexus is the premier Northeast Ohio organization partnering with you to increase business opportunities between major buying organizations and certified LGBT businesses. We're your partner in building new opportunities and audiences for your organization.
To become a Certified LGBT Business Enterprise (LGBTBE) your business must meet all of the following requirements:
Your business enterprise is a for-profit business.
Is at least 51% LGBT owned, operated, managed, and controlled by an LGBT person or persons who are either US Citizens or lawful permanent residents.
Exercises independence from any non-LGBT business enterprise.
Has been formed as a legal entity in the United States or its trust territories.
Because Plexus is an affiliate of NGLCC, members of Plexus can apply for certification without a fee - a $400 savings.
Certification can be achieved through four steps:
Visit NGLCC.org to complete the online application process. Build your business profile and submit supporting documentation to verify your eligibility for certification.
After your application is complete, NGLCC and Plexus will schedule a convenient date/time with you to verify information at a site visit.
Your application will be reviewed by the National Certification Committee.
After confirmation of your approval, participate in an LGBTBE orientation webinar to learn how to leverage the resources of this certification.
Plexus compiled a toolkit to guide you through the NGLCC process, and we can connect you with experienced business owners in your sector who can offer insight. We're just an email or call away  info@ThinkPlexus.org  or  216.243.7510
NGLCC's Supplier Diversity Initiative Team is a great resource and is always ready to help you through the entire certification process. Should you need additional assistance during the certification process, the NGLCC Supplier Diversity Initiative Team's contact details are:
Telephone: 202.234.9181  |  Email: supplierdiversity@nglcc.org  |  Website:  www.nglcc.org/get-certified