OverDrive Staff LGBTQ+ Suggested Reading List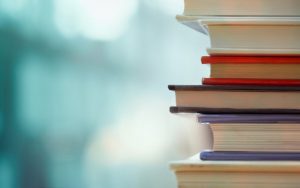 We invited Rachel Kray from Overdrive to our Plexus Pour Over on October 16th to share some reading suggestions for LGBTQ History Month.
This list is not intended to be comprehensive. There are thousands of other fantastic LGBTQ titles. Our goal is to present a collection of accessible, modern, readable, and relatable titles. Our hope is that you will see something that piques your interest to diversify your reading.
If you would like further recommendations or information on starting a book club, please contact Rachel Kray (rkray@overdrive.com).
Adult Fiction
Red, White & Royal Blue by Casey McQuiston
What happens when America's First Son falls in love with the Prince of Wales? When his mother became President, Alex Claremont-Diaz was promptly cast as the American equivalent of a young royal. Handsome, charismatic, genius—his image is pure millennial-marketing gold for the White House. There's only one problem: Alex has a beef with the actual prince, Henry, across the pond. And when the tabloids get hold of a photo involving an Alex-Henry altercation, U.S./British relations take a turn for the worse.
Heads of family, state, and other handlers devise a plan for damage control: staging a truce between the two rivals. What at first begins as a fake, Instragramable friendship grows deeper, and more dangerous, than either Alex or Henry could have imagined. Soon Alex finds himself hurtling into a secret romance with a surprisingly unstuffy Henry that could derail the campaign and upend two nations and begs the question: Can love save the world after all?
The Great Believers by Rebecca Makkai
In 1985, Yale Tishman, the development director for an art gallery in Chicago, is about to pull off an amazing coup, bringing in an extraordinary collection of 1920s paintings as a gift to the gallery. Yet as his career begins to flourish, the carnage of the AIDS epidemic grows around him. One by one, his friends are dying and after his friend Nico's funeral, the virus circles closer and closer to Yale himself. Soon the only person he has left is Fiona, Nico's little sister.
Thirty years later, Fiona is in Paris tracking down her estranged daughter who disappeared into a cult. While staying with an old friend, a famous photographer who documented the Chicago crisis, she finds herself finally grappling with the devastating ways AIDS affected her life and her relationship with her daughter. The two intertwining stories take us through the heartbreak of the eighties and the chaos of the modern world, as both Yale and Fiona struggle to find goodness in the midst of disaster.
The Seven Husbands of Evelyn Hugo by Taylor Jenkins Reid
From the author of Daisy Jones & The Six—an entrancing novel "that speaks to the Marilyn Monroe and Elizabeth Taylor in us all" (Kirkus Reviews), in which a legendary film actress reflects on her relentless rise to the top and the risks she took, the loves she lost, and the long-held secrets the public could never imagine. Aging and reclusive Hollywood movie icon Evelyn Hugo is finally ready to tell the truth about her glamorous and scandalous life. But when she chooses unknown magazine reporter Monique Grant for the job, no one is more astounded than Monique herself. Why her? Why now?
The House of Impossible Beauties by Joseph Cassara
A gritty and gorgeous debut that follows a cast of gay and transgender club kids navigating the Harlem ball scene of the 1980s and '90s, inspired by the real House of Xtravaganza made famous by the seminal documentary Paris Is Burning and the award-winning television show Pose.
Giovanni's Room by James Baldwin
Set in the 1950s Paris of American expatriates, liaisons, and violence, a young man finds himself caught between desire and conventional morality. With a sharp, probing imagination, James Baldwin's now-classic narrative delves into the mystery of loving and creates a moving, highly controversial story of death and passion that reveals the unspoken complexities of the human heart.
Upright Women Wanted by Sarah Gailey 
In Upright Women Wanted, award-winning author Sarah Gailey reinvents the pulp Western with an explicitly antifascist, near-future story of queer identity. Esther is a stowaway. She's hidden herself away in the Librarian's book wagon in an attempt to escape the marriage her father has arranged for her—a marriage to the man who was previously engaged to her best friend. Her best friend who she was in love with. Her best friend who was just executed for possession of resistance propaganda. The future American Southwest is full of bandits, fascists, and queer librarian spies on horseback trying to do the right thing.
Adult Nonfiction
Over the Top by Jonathan Van Ness
A laugh-and-cry-out-loud memoir from the beloved star of Netflix's Queer Eye, Jonathan Van Ness, sharing never before told, deeply personal stories of growing up gay, transforming pain into positivity, and embracing what makes you gorgeously different.
When We Rise by Cleve Jones
Born in 1954, Cleve Jones was among the last generation of gay Americans who grew up wondering if there were others out there like himself. There were. Like thousands of other young people, Jones, nearly penniless, was drawn in the early 1970s to San Francisco, a city electrified by progressive politics and sexual freedom.
By turns tender and uproarious, When We Rise is Jones' account of his remarkable life. He chronicles the heartbreak of losing countless friends to AIDS, which very nearly killed him, too; his co-founding of the San Francisco AIDS Foundation during the terrifying early years of the epidemic; his conception of the AIDS Memorial Quilt, the largest community art project in history; the bewitching story of 1970s San Francisco and the magnetic spell it cast for thousands of young gay people and other misfits; and the harrowing, sexy, and sometimes hilarious stories of Cleve's passionate relationships with friends and lovers during an era defined by both unprecedented freedom and and violence alike.
In the Dream House by Carmen Maria Machado
A revolutionary memoir about domestic abuse by the award-winning author of Her Body and Other Parties. In the Dream House is Carmen Maria Machado's engrossing and wildly innovative account of a relationship gone bad, and a bold dissection of the mechanisms and cultural representations of psychological abuse. Tracing the full arc of a harrowing relationship with a charismatic but volatile woman, Machado struggles to make sense of how what happened to her shaped the person she was becoming.
How We Fight for Our Lives by Saeed Jones
Haunted and haunting, How We Fight for Our Lives is a stunning coming-of-age memoir. Jones tells the story of a young, black, gay man from the South as he fights to carve out a place for himself, within his family, within his country, within his own hopes, desires, and fears. Through a series of vignettes that chart a course across the American landscape, Jones draws readers into his boyhood and adolescence—into tumultuous relationships with his family, into passing flings with lovers, friends, and strangers. Each piece builds into a larger examination of race and queerness, power and vulnerability, love and grief: a portrait of what we all do for one another—and to one another—as we fight to become ourselves.
Sissy by Jacob Tobia
As a young child in North Carolina, Jacob Tobia wasn't the wrong gender, they just had too much of the stuff. Barbies? Yes. Playing with bugs? Absolutely. Getting muddy? Please. Princess dresses? You betcha. Jacob wanted it all, but because they were "a boy," they were told they could only have the masculine half. Acting feminine labelled them "a sissy" and brought social isolation. It took Jacob years to discover that being "a sissy" isn't something to be ashamed of. It's a source of pride. Following Jacob through bullying and beauty contests, from Duke University to the United Nations to the podiums of the Methodist church—not to mention the parlors of the White House—this unforgettable memoir contains multitudes. A deeply personal story of trauma and healing, a powerful reflection on gender and self-acceptance, and a hilarious guidebook for wearing tacky clip-on earrings in today's world, Sissy guarantees you'll never think about gender—both other people's and your own—the same way again.
A Queer History of the United States by Michael Bronski
Intellectually dynamic and endlessly provocative, A Queer History of the United States is more than a "who's who" of queer history: it is a book that radically challenges how we understand American history. Drawing upon primary documents, literature, and cultural histories, noted scholar and activist Michael Bronski charts the breadth of lesbian, gay, bisexual, and transgender history, from 1492 to the 1990s, and has written a testament to how the LGBT experience has profoundly shaped our country, culture, and history.
Odd Girls and Twilight Lovers by Lillian Faderman
As Lillian Faderman writes, there are "no constants with regard to lesbianism," except that lesbians prefer women. In this groundbreaking book, she reclaims the history of lesbian life in twentieth-century America, tracing the evolution of lesbian identity and subcultures from early networks to more recent diverse lifestyles. She draws from journals, unpublished manuscripts, songs, media accounts, novels, medical literature, pop culture artifacts, and oral histories by lesbians of all ages and backgrounds, uncovering a narrative of uncommon depth and originality.
Tranny by Laura Jane Grace
The provocative transgender advocate and lead singer of the punk rock band Against Me! provides a searing account of her search for identity and her true self. Tranny is the intimate story of Against Me!'s enigmatic founder, weaving the narrative of the band's history, as well as Grace's, with dozens of never-before-seen entries from the piles of journals Grace kept. More than a typical music memoir about sex, drugs, and rock 'n' roll-although it certainly has plenty of that-Tranny is an inside look at one of the most remarkable stories in the history of rock.
David Bowie Made Me Gay: 100 Years of LGBT Music by Darryl Bullock
From Sia to Elton John, from Billie Holiday to David Bowie, LGBT musicians have changed the course of modern music. But before their music—and the messages behind it—gained understanding and a place in the mainstream, how did the queer musicians of yesteryear fight to build foundations for those who would follow them? David Bowie Made Me Gay is the first book to cover the breadth of history of recorded music by and for the LGBT community.Darryl W. Bullock reveals the stories of both famous and lesser-known LGBT musicians, whose perseverance against the threat of persecution during decades of political and historical turmoil—including two world wars, Stonewall, and the AIDS crisis—has led to some of the most significant and soul-searching music of the last century.
She/He/They/Me by Robyn Ryle
If you've ever questioned the logic of basing an entire identity around what you have between your legs, it's time to embark on a daring escape outside of the binary box... Jump headfirst into this refreshingly creative exploration of the ways gender colors every shade and shape of our world. Above all, it's more important than ever for us to celebrate the fact that there are infinite gender paths — and each of them is beautiful.
Young Adult Fiction
We Are Okay by Nina LaCour
Winner of the 2018 Michael L. Printz Award. Marin hasn't spoken to anyone from her old life since the day she left everything behind. No one knows the truth about those final weeks. Not even her best friend Mabel. But even thousands of miles away from the California coast, at college in New York, Marin still feels the pull of the life and tragedy she's tried to outrun. Now, months later, alone in an emptied dorm for winter break, Marin waits. Mabel is coming to visit and Marin will be forced to face everything that's been left unsaid and finally confront the loneliness that has made a home in her heart.
Like a Love Story by Abdi Nazemian
It's 1989 in New York City, and for three teens, the world is changing. Reza is an Iranian boy who has just moved to the city with his mother to live with his stepfather and stepbrother. He's terrified that someone will guess the truth he can barely acknowledge about himself. Reza knows he's gay, but all he knows of gay life are the media's images of men dying of AIDS. Judy is an aspiring fashion designer who worships her uncle Stephen, a gay man with AIDS who devotes his time to activism as a member of ACT UP. Judy has never imagined finding romance...until she falls for Reza and they start dating. Art is Judy's best friend, their school's only out and proud teen. He'll never be who his conservative parents want him to be, so he rebels by documenting the AIDS crisis through his photographs. As Reza and Art grow closer, Reza struggles to find a way out of his deception that won't break Judy's heart—and destroy the most meaningful friendship he's ever known. This is a bighearted, sprawling epic about friendship and love and the revolutionary act of living life to the fullest in the face of impossible odds.
Pet by Akwaeke Emezi
The highly anticipated, genre-defying new novel by award-winning author Akwaeke Emezi that explores themes of identity and justice. Pet is here to hunt a monster. Are you brave enough to look?
There are no monsters anymore, or so the children in the city of Lucille are taught. Jam and her best friend, Redemption, have grown up with this lesson all their life. But when Jam meets Pet, a creature made of horns and colors and claws, who emerges from one of her mother's paintings and a drop of Jam's blood, she must reconsider what she's been told. Pet has come to hunt a monster, and the shadow of something grim lurks in Redemption's house. Jam must fight not only to protect her best friend, but also to uncover the truth, and the answer to the question—How do you save the world from monsters if no one will admit they exist?
The Gravity of Us by Phil Stamper
In this smart, heart-warming YA debut perfect for fans of Becky Albertalli and Adam Silvera, two teens find love when their lives are uprooted for their parents' involvement in a NASA mission to Mars.
With the entire nation desperate for any new information about the astronauts, Cal finds himself thrust in the middle of a media circus. Suddenly his life is more like a reality TV show, with his constantly bickering parents struggling with their roles as the "perfect American family." And then Cal meets Leon, whose mother is another astronaut on the mission, and he finds himself falling head over heels—and fast. They become an oasis for each other amid the craziness of this whole experience. As their relationship grows, so does the frenzy surrounding the Mars mission, and when secrets are revealed about ulterior motives of the program, Cal must find a way to get to the truth without hurting the people who have become most important to him.
Laura Dean Keeps Breaking Up with Me by Mariko Tamaki
Author Mariko Tamaki and illustrator Rosemary Valero-O'Connell bring to life a sweet and spirited tale of young love in Laura Dean Keeps Breaking Up with Me, a graphic novel that asks us to consider what happens when we ditch the toxic relationships we crave to embrace the healthy ones we need. Laura Dean, the most popular girl in high school, was Frederica Riley's dream girl: charming, confident, and SO cute. There's just one problem: Laura Dean is maybe not the greatest girlfriend.
Young Adult Nonfiction
This Book is Gay by Juno Dawson
Lesbian. Bisexual. Queer. Transgender. Straight. Curious. This book is for everyone, regardless of gender or sexual preference. This book is for anyone who's ever dared to wonder. This book is for YOU. There's a long-running joke that, after "coming out," a lesbian, gay guy, bisexual, or trans person should receive a membership card and instruction manual. THIS IS THAT INSTRUCTION MANUAL.
Queer, There, and Everywhere by Sarah Prager
Queer author and activist Sarah Prager delves deep into the lives of 23 people who fought, created, and loved on their own terms. From high-profile figures like Abraham Lincoln and Eleanor Roosevelt to the trailblazing gender-ambiguous Queen of Sweden and a bisexual blues singer who didn't make it into your history books, these astonishing true stories uncover a rich queer heritage that encompasses every culture, in every era.
Brave Face: A Memoir by Shaun David Hutchinson
Shaun David Hutchinson was nineteen. Confused. Struggling to find the vocabulary to understand and accept who he was and how he fit into a community in which he couldn't see himself. The voice of depression told him that he would never be loved or wanted, while powerful and hurtful messages from society told him that being gay meant love and happiness weren't for him. A million moments large and small over the years all came together to convince Shaun that he couldn't keep going, that he had no future. And so he followed through on trying to make that a reality. Thankfully Shaun survived, and over time, came to embrace how grateful he is and how to find self-acceptance. In this courageous and deeply honest memoir, Shaun takes readers through the journey of what brought him to the edge, and what has helped him truly believe that it does get better.
Your Rights as an LGBTQ+ Teen by Barbra Penne
Each chapter in this comprehensive title provides resources for teens encountering interpersonal or systemic mistreatment at home, school, work, and in their community. The text lays out their legally recognized rights in these contexts, providing information about how to make use of existing laws. Also included are strategies for meeting needs not currently recognized as legal rights, drawing on past and contemporary struggles for equality. Accessible and engaging, this title provides LGBTQ+ youth with the tools to protect themselves, participate safely in the activities they care about, and to make societal change.
The 57 Bus by Derek Slater
One teenager in a skirt. One teenager with a lighter. One moment that changes both of their lives forever. If it weren't for the 57 bus, Sasha and Richard never would have met. Both were high school students from Oakland, California, one of the most diverse cities in the country, but they inhabited different worlds. Sasha, a white teen, lived in the middle-class foothills and attended a small private school. Richard, a black teen, lived in the crime-plagued flatlands and attended a large public one. Each day, their paths overlapped for a mere eight minutes. But one afternoon on the bus ride home from school, a single reckless act left Sasha severely burned, and Richard charged with two hate crimes and facing life imprisonment. The 57 Bus is Dashka Slater's true account of the case that garnered international attention and thrust both teenagers into the spotlight.
Juvenile Fiction
George by Alex Gino
When people look at George, they think they see a boy. But she knows she's not a boy. She knows she's a girl. George thinks she'll have to keep this a secret forever. Then her teacher announces that their class play is going to be Charlotte's Web. George really, really, REALLY wants to play Charlotte. But the teacher says she can't even try out for the part . . . because she's a boy. With the help of her best friend, Kelly, George comes up with a plan. Not just so she can be Charlotte — but so everyone can know who she is, once and for all.
The Best at It by Maulik Pancholy
From award-winning actor Maulik Pancholy comes a hilarious and heartfelt middle grade debut about a gay Indian American boy coming into his own. Funny, charming, and incredibly touching, this is a story about friendship, family, and the courage it takes to live your truth.
Ivy Aberdeen's Letter to the World by Ashley Herring Blake
In the wake of a destructive tornado, one girl develops feelings for another in this stunning, tender novel about emerging identity. Ivy Aberdeen's Letter to the World exquisitely enriches the rare category of female middle-grade characters who like girls—and children's literature at large.
To Night Owl from Dogfish by Holly Goldberg and Meg Wolitzer
From two extraordinary authors comes a moving, exuberant, laugh-out-loud novel about friendship and family, told entirely in emails and letters. Avery Bloom, who's bookish, intense, and afraid of many things, particularly deep water, lives in New York City. Bett Devlin, who's fearless, outgoing, and loves all animals as well as the ocean, lives in California. What they have in common is that they are both twelve years old, and are both being raised by single, gay dads. When their dads fall in love, Bett and Avery are sent, against their will, to the same sleepaway camp. Their dads hope that they will find common ground and become friends—and possibly, one day, even sisters.
A Day in the Life of Marlon Bundo by Jill Twiss
HBO's Emmy-winning Last Week Tonight with John Oliver presents a picture book about a Very Special boy bunny who falls in love with another boy bunny. Meet Marlon Bundo, a lonely bunny who lives with his Grampa, Mike Pence - the Vice President of the United States. But on this Very Special Day, Marlon's life is about to change forever. With its message of tolerance and advocacy, this charming children's book explores issues of same sex marriage and democracy. Sweet, funny, and beautifully illustrated, this book is dedicated to every bunny who has ever felt different. 100% of Last Week Tonight's proceeds will be donated to The Trevor Project and AIDS United.
Juvenile Nonfiction
Pride: The Story of Harvey Milk and the Rainbow Flag by Rob Sanders and Steven Salerno
In this deeply moving and empowering true story, young readers will trace the life of the Gay Pride Flag, from its beginnings in 1978 with social activist Harvey Milk and designer Gilbert Baker to its spanning of the globe and its role in today's world. Award-winning author Rob Sanders's stirring text, and acclaimed illustrator Steven Salerno's evocative images, combine to tell this remarkable - and undertold - story. A story of love, hope, equality, and pride.
It Feels Good to Be Yourself: A Book About Gender Identity by Theresa Thorn and Noah Gringi
Some people are boys. Some people are girls. Some people are both, neither, or somewhere in between. This sweet, straightforward exploration of gender identity will give children a fuller understanding of themselves and others. With child-friendly language and vibrant art, It Feels Good to Be Yourself provides young readers and parents alike with the vocabulary to discuss this important topic with sensitivity.
Stonewall: A Building, An Uprising, A Revolution by Rob Sanders and Jamey Christoph
Celebrate the fiftieth anniversary of the Stonewall Uprising with the very first picture book to tell of its
historic and inspiring role in the gay civil rights movement.
All You Need is Love by Shanni Collins
All families come in different shapes and sizes, but they are all special when they love and respect each other. These rhyming stories are a celebration of the diversity of families and encourage inclusion and acceptance in a child's relationships. By promoting diversity and understanding in family life and elsewhere, these stories support a positive approach to life at a young age, which fosters strong mental health and well-being.
You Be You! The Kid's Guide to Gender, Sexuality, and Family by Jonathan Branfman
This is an illustrated children's book for ages 7-11 that makes gender identity, sexual orientation and family diversity easy to explain to children. Throughout the book kids learn that there are many kinds of people in the world and that diversity is something to be celebrated. It covers gender, romantic orientation, discrimination, intersectionality, privilege, and how to stand up for what's right. With charming illustrations, clear explanations, and short sections that can be dipped in and out of, this book helps children think about how to create a kinder, more tolerant world.
Other Resources
*Book descriptions taken from https://www.overdrive.com/